Maxxon Gyp-Crete® Radiant
Maxxon® Gyp-Crete® Radiant is a gypsum underlayment designed to pour over
hydronic tubes or electric heating cables, which then acts as the thermal mass
for radiant floor systems. Encasing the tubes or cables in crack-resistant,
non-combustible gypsum, the special formula resists breakdown to 150 °F
(66 °C). Poured at just 11/4" (32 mm) thick, Maxxon Gyp-Crete Radiant stabilizes
your heating system, creating a more comfortable home/environment.
Some radiant systems install under plywood subfloors resulting in lost heat, as
plywood is nearly four times more insulative than Maxxon Gyp-Crete Radiant.
Maxxon Gyp-Crete Radiant works above the subfloor for greater efficiency and
consistent comfort.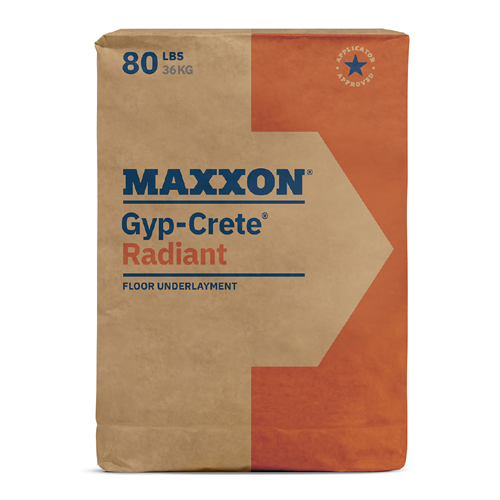 Maxxon Gyp-Crete® Radiant Gypsum Underlayment
Maxxon Gyp-Crete® Radiant Revit Template
Fire Ratings/Detail Drawings - 2x10 Wood Frame
Fire Ratings/Detail Drawings - Light Gauge Steel Joist Construction with Corrugated Steel Deck
Fire Ratings/Detail Drawings - Light Gauge Steel Joist Construction with Plywood or OSB Subfloor
Fire Ratings/Detail Drawings - TotalJoist by iSPAN with Steel Deck
Fire Ratings/Detail Drawings - TotalJoist by iSPAN with Plywood or OSB
Maxxon Commercial MVP One Primer
All Available 2D CAD Files
All Available BIM and 3D Files
All Available Specifications