Surface Mount Bollards
Base plate bollards are primarily used when the slab they are being mounted on is too shallow for a deeper, more secure concrete footing. Base plate bollards should not be relied upon for stopping vehicles or as a perimeter security application, but rather as a pedestrian traffic guide and vehicular deterrent.

Base Plate Carbon Steel (IBB Series)
The IBB series of base plate bollards are manufactured from carbon steel for a variety of strengths and options. Carbon steel finishes available in over 180+ powder coat colors, galvanized or primed only.

Base Plate Stainless Steel (SBB Series)
The SSB series of base plate bollards are manufactured from stainless steel for durability, weather-resistance, and aesthetics. Calpipe Security Bollards offers standard Type 304 grade stainless steel, or for harsher environments, request Type 316. The stainless steel is polished to a #4 finish.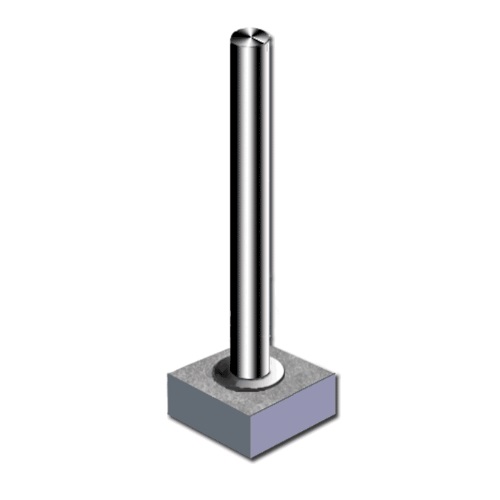 10" Stainless Steel Base Plate
12" Stainless Steel Base Plate
3" Stainless Steel Base Plate
4" Stainless Steel Base Plate
5" Stainless Steel Base Plate
6" Stainless Steel Base Plate
8" Stainless Steel Base Plate
Bollard Calpipe Fixed Surface
All Available 2D CAD Files
All Available BIM and 3D Files