Insulated Panel System
Benchmark by Kingspan – Engineered Façade Systems, is incorporating the EVO™ RIVETLESS™ panel into their new Benchmark by Kingspan EVO `Karrier Façade System`. We are over-the-top enthused in strengthening the ties already established. The expertise of Benchmark by Kingspan, will provide insulated panel solutions to our approved North American fabricator network. Our nationally recognized EVO™ ACM panel system and its patented standardized features will provide optional finishes and modern patterns to the multitude of insulated panel projects by Benchmark, throughout North America. Gaining access to our EVO™ fabricator network will strengthen the caliber of providers for Benchmark, to bid projects and delight Architectural firms across America, wanting the consistency, quality and performance of design from coast-to-coast.
The importance of recognizing each other's strengths in pursuing market share growth within our industry is possible through the trust and respect our management teams endorse. Innovation in design, to bring to market improved product lines that are better and bolder ways to construct buildings, is a shared philosophy of Benchmark by Kingspan – Engineered Façade Systems, and EVO™ RIVETLESS™. Combined we intend to stand up to the rigors of testing, competition and mother nature, while protecting each buildings inhabitants. Here's to Partners with a shared vision of building success, while looking brilliant from the outside!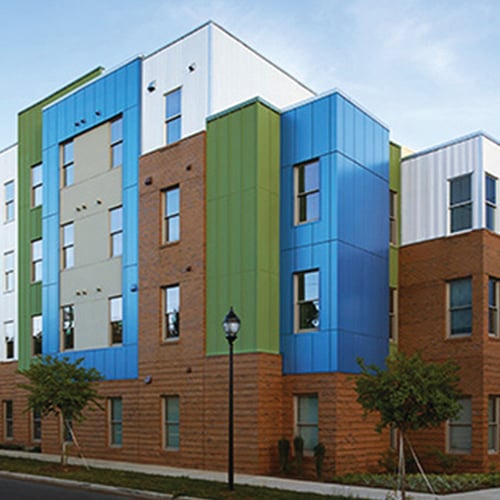 Insulated Panel System: Base At Notched Concrete
Insulated Panel System: Base At Overhang (With Base Flashing)
Insulated Panel System: Base Detail Flush
Insulated Panel System: Base Detail Flush with Extrusion
Insulated Panel System: Curtainwall (Flush) Head
Insulated Panel System: Curtainwall (Flush) Jamb
Insulated Panel System: Engaged Panel Joint
Insulated Panel System: Expanded Panel Joint
Insulated Panel System: Framed Opening Head
Insulated Panel System: Framed Opening Jamb
Insulated Panel System: Inside Corner
Insulated Panel System: Low Eave Detail
Insulated Panel System: Outside Corner (Mitered Tile)
Insulated Panel System: Panel Termination
Insulated Panel System: Parapet Detail
Insulated Panel System: Parapet Detail Overhang Cap
Insulated Panel System: Rake Detail
Insulated Panel System: Storefront Window Head
Insulated Panel System: Storefront Window Jamb
Insulated Panel System: Storefront Window Sill
Insulated Panel System: Trim End Lap
Insulated Panel System: Trim End with Hem
Insulated Panel System: Vertical Joint
Insulated Panel System: Vertical Joint Between Studs
Insulated Panel System: Vertical Joint Profile
All Available 2D CAD Files
All Available Specifications