Versa Wall To The Floor / Irrigation: Recirculation Tanks At The Wall
Recirculation tanks can be used where water efficiency is a primary goal in the design of the green wall.
Can be used in situations where there is no drain available (automatic watering not recommended).
Requires Drain/Supply/Power at the wall, Lighting and Maintenance Accessibility.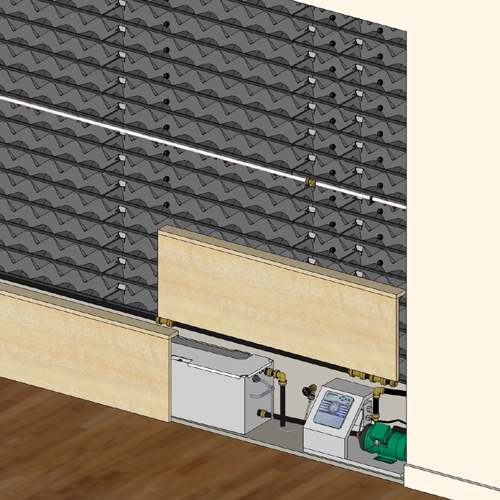 Versa Wall: Elevation With 16" Base Cabinet
Versa Wall: Enlarged Elevation - Tray Layout Guide
Versa Wall: Section Detail With 2" Top Trim
Versa Wall: Section Detail With 16" Base Cabinet
Versa Wall: Plan Detail With 2" Side Trim
Versa Wall: Irrigation Details - Recirculation Tanks At The Wall
Versa Wall: Irrigation Details - MEP Requirements At The Wall
All Available 2D CAD Files