Lawn & Landscape Systems
Artificial grass is widely known for it's use in sports fields, SYNLawn® synthetic turf is created for your lawns and landscaping. SYNLawn's sister company AstroTurf® handles all of the field turf needs for the sports world, while SYNLawn® focuses solely on residential and commercial landscaping applications A professionally installed landscape by SYNLawn® is so realistic, so unbelievably natural you won't be able to tell it's synthetic grass … even when you're standing on it.
SYNLawn
® will help
design and install your landscape to perfection. No detail is left out. Working with you and understanding your needs, SYNLawn will tailor the installation to your vision of the picture perfect lawn. They handle all the heavy lifting, the irrigation system and create natural transitions between
SYNLawn
®
grass and the natural surroundings in your landscape. They install the grass around trees, shrubs, hedges, flower beds, walkways, paving stones and anything else you require in your design.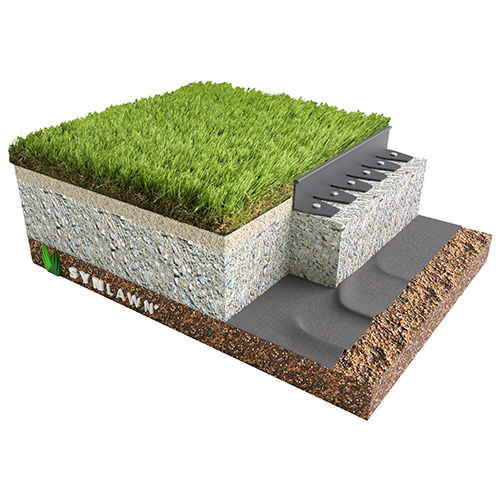 SYNLawn Artificial Grass System
SYNLawn Installed Over Graduate Aggregate Base
SYNLawn Seaming Detail SYNLawn Seamed w/ Approved Seaming Cloth and Adhesive
SYNLawn Installed Over Aggregate Base Between Curbing, Utilizing Nailer Boards
SYNLawn Installed Over Concrete or Concrete Pavers
SYNLawn Installed Over Wood Roof Decking & Sleepers
SYNLawn Installation with ADA Compliant Custom Edging
SYNLawn Rodent Control - SYNLawn Installed Over Aggregate Base & Rodent Control Wire Mesh
SYNLawn Installed Between Driveway Pavers
SYNLawn High Use Pet Area Standard Installation Detail, USA
SYNLawn w/ Stakes Screwed to Nailer Board, USA
All Available 2D CAD Files
All Available Specifications