Legacy Portable Basketball Goals
The Legacy™ 10 portable basketball goal sets a new world standard for reliability, stability, safety and ease of use. With a host of engineering refinements, no other portable goal on the planet is stronger, tougher or easier to move and setup. Designed to endure years of punishing use, Legacy 10 meets or exceeds all international, professional and NCAA requirements.
Providing eight-feet of clearance space from the backboard to the front of the padded base, our 8-foot model is used extensively by collegiate basketball programs throughout North America. Legacy 8 includes all of the standard features as our Legacy 10, and every bit as tough, sturdy and strong. Legacy 8 meets or exceeds all NCAA requirements.
Available in 16 colors. Ask your SNA rep about custom colors and full-color graphics.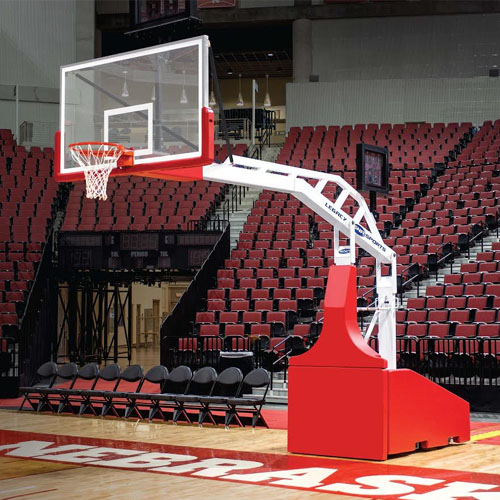 Legacy 10 (10 ft. 8 inch run-out) Corner View
Legacy 10 (10 ft. 8 inch run-out) Side View
Legacy 10 (10 ft. 8 inch run-out) Overhead Collapsed
Legacy 10 (10 ft. 8 inch run-out) Overhead Game Position w/Anchor
Legacy 10 (10 ft. 8 inch run-out) Footprint
Legacy 8 (8 ft. run-out) Side View
Legacy 8 (8 ft. run-out) Overhead Collapsed
Legacy 8 (8 ft. run-out) Overhead Game Position w/Anchor
Legacy 8 (8 ft. run-out) Footprint
Legacy 8 (8 ft. run-out) Corner View
All Available 2D CAD Files
All Available Specifications