Perforated Style Tables
Our Perforated tables make great additions to nearly any outdoor space! This metal seating design has a core of 11 gauge large hole punched steel with radius edges. These commercial tables are super strong and yet the radius design ensures a smooth fit and finish.
Customize your table to fit your space by choosing from our 22 powder coat frame colors and 13 textured polyethylene surface colors. Match them to your organization's theme or team colors. Our WEB and Pedestal styles have 2 and 3-seat variations for wheelchair accessibility.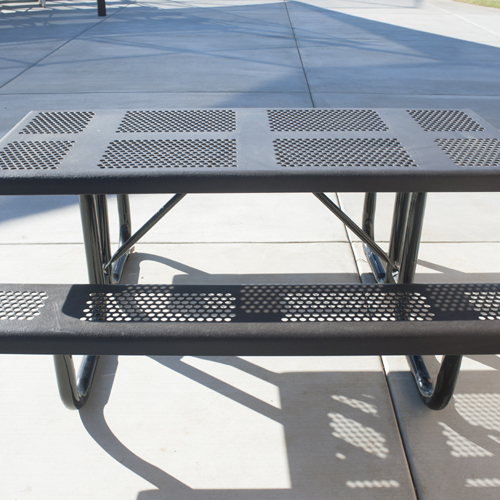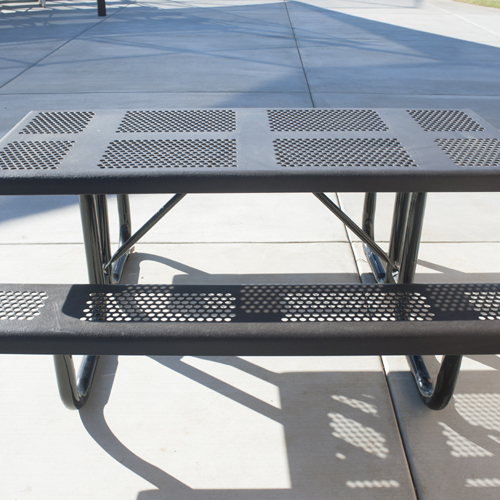 6 ft. Perforated Rectangular Portable Table (T6PERF)
6 ft. Utility Perforated Rectangular Portable Table (T6PERFUP)
8 ft. Perforated Rectangular Portable Table (T8PERF)
8 ft. ADA Accessible Perforated Rectangular Portable Table (T8PERFHDCP)
8 ft. Perforated Rectangular Pedestal In-Ground Mount Table (T8PERFPEDS)
8 ft. ADA Accessible Perforated Rectangular Pedestal In-Ground Mount Table (T8PERFDBLPEDHDCP)
8 ft. Perforated Rectangular WEB Surface Mount Table
8 ft. ADA Accessible Perforated Rectangular WEB In-Ground Mount Table (T8WEBHDCPS)
10 ft. Perforated Rectangular 4-4 Surface Mount Table (T10PERF4-4SM)
46 in. Perforated Square Pedestal Surface Mount Table (T46PERFPEDSM)
46 in. Perforated Octagon WEB Surface Mount Table (T46WEBOCTPERFSM)
46 in. ADA Accessible Perforated Octagon WEB Surface Mount Table with 3 Seats (T46WEBOCTPERF-3SM)
46 in. Perforated Square Portable Table (T46RPERF)
46 in. Perforated Octagonal Portable Table (T46OCTPERF)
All Available 2D CAD Files